Download FACE 2 FACE, a book with more than 100 pages of caricatures.
Fancy a little face to face with your favorite superstars? With this playful and original book, have fun to recognize all celebrities by themes: movies, politics, sports and music. > Sample.
Mini caricatures of their relationship and some hilarious quotes will put you on track. For only US$ 7, download now your eBook FACE 2 FACE created by the authors of Caricature Zone who sketched especially for you more than 500 international celebrities caricatures.
Order now your eBook for only
US$ 7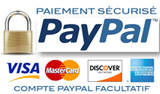 Secure payment by PayPal
---
Contact: book@magixl.com